Trekking In Atlas mountains
Explore the Best Of Morocco
book the morocco's most incedible experiences, with the best local guides and hosts.
Trekking And Hiking in Atlas Mountains Morocco
Trekking and Hiking in Atlas Mountains Morocco Is one of the very best things Morocco has to offer, the country boasts one of the most rewarding mountain ranges in the world. If you are used to the Pyrenees or Alps, here you will feel you are moving a country or so back in time. Trekking in the Atlas Mountains makes for an incredible holiday. The tiny villages perched on the sides of the mountain, the warmth and hospitality of the Berber people and the spectacular views all add up to an amazing  Atlas Mountains
Based in Toubkal national park and Precisely the village of Imlil, ClimbingToubkal is an independent Berber operator owned by Mohamed & Brahim Aztat, organizing private trekking & hiking tours, 4×4 adventure Holidays in Morocco's  Atlas mountains epic outdoors.
We Have been working with many different international travel organizations like Adventure land and world challenge, Tourdust, exudes, explore travel. and more…
Besides of our experience and knowledge of the Atlas mountains and Morocco in general, we have a diploma from the center of professional guides & Graduated from the " Royal Moroccan Federation of Skiing and Mountaineering, makes us qualified and certified guides.
Morocco is a magnificent Trekking destination offering an array of landscapes and treks to suit all abilities. The snow-capped high atlas Mountains are justifiably famous, especially North Africa's highest Peak Jbel Toubkal (4167m) which can be tackled as a straight ascent or as a part of a circuit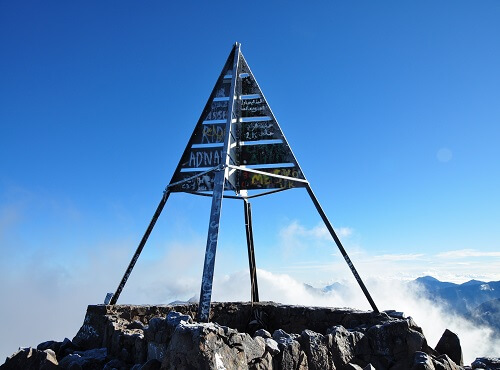 Toubkal Ascent Trek 2D/1N
Challenge yourself to climb the highest peak in North Africa (Toubkal) in 2 days. The tour starts and finishes in the vibrant city of Marrakech,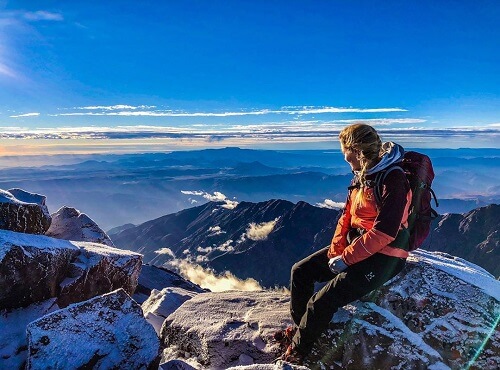 Mount Toubkal Ascent 3D/2N
This is the best 3 days to make the Toubkal but not in winter, This trek takes you to get a look from the highest peak in North Africa in winter.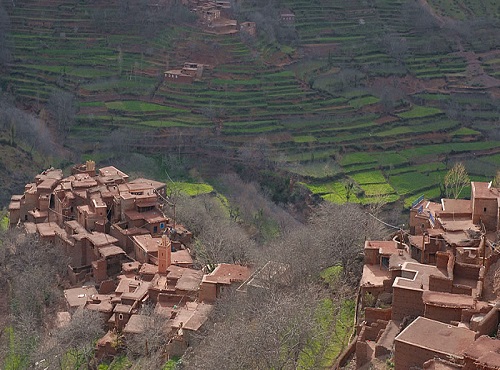 Imlil & Azzaden Valley Trek
One of the best Treks you can do in the Atlas mountains in a very short time, Only two days get you to see the real atlas by walking in several villages
Exploring the Sahara by camel – whether on an overnight excursion or a longer Trek – is one of morocco's signature activities and most rewarding wilderness experiences, Morocco's most evocative stretches of Saharan sand are Erg Chebbi near merzouga and erg Chigaga near M'hamid, and Zagora and past the more accessible Tinfou dunes.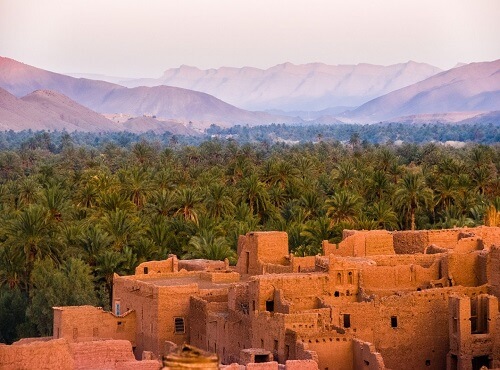 Zagora Camel Trip
Marrakech to Zagora 2 days / 1-night desert tour is one of the most popular Morocco desert tours. The one day Tour to Zagora from Marrakech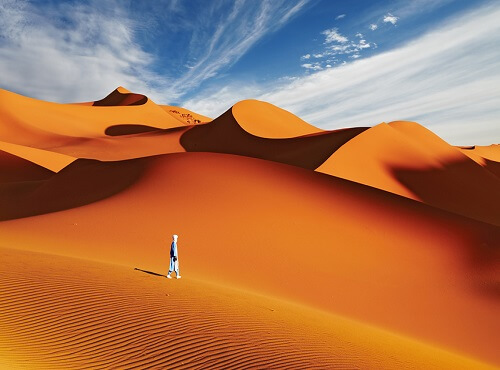 Sahara Camel Ride 3D/2N
Erg Chebbi is a dune field of about 22 Km from north to south Among the dunes there are several oases. The trip to the oasis starts with a long route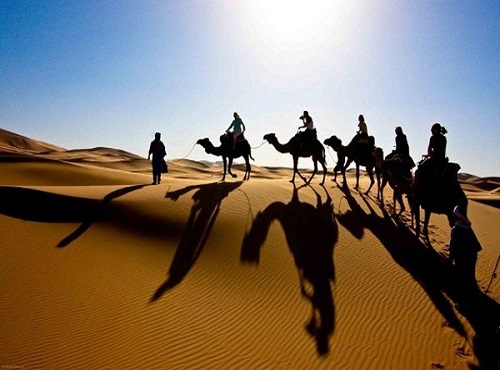 Sahara & Kasbah Tour 4D/3N
Desert Tour from Marrakech to the dunes of Merzouga will allow you to discover the real Morocco. On this 4 day experience, the beauty of the dunes
Discover the best tours in Morocco From Hiking in The Berber Villages in the Atlas Mountains To Camel Ride in the Sahara Desert, Highlights of Morocco, Atlas And Sahara & Beyond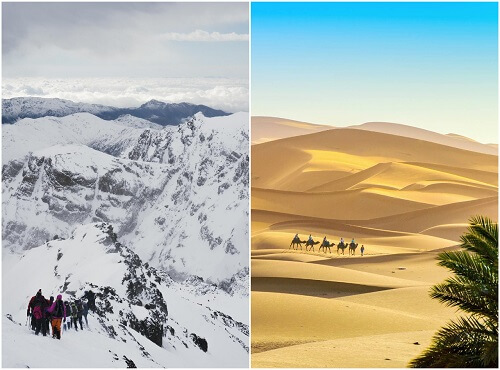 Toubkal Asent & Sahara
This tour gives you the chance to see the diversity of the nature of Morocco. by climbing the highest mountain in North Africa to deep dunes of Merzouga,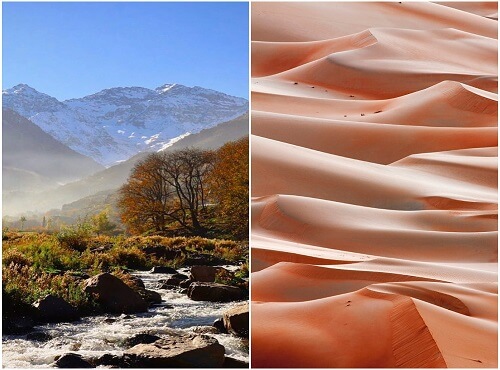 Berber Villages & Sahara
A combined tour package including Camel trek in Erg Chebbi dunes and hike Berber villages in the atlas Mountains, Explore The world heritage place of Ait Ben Haddou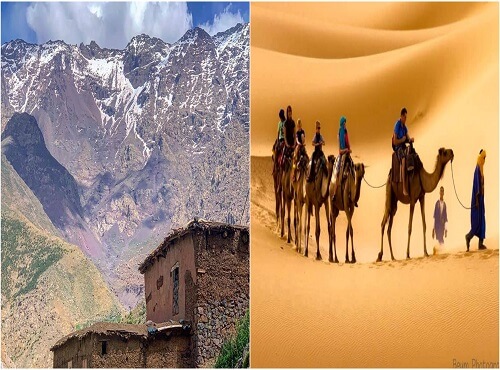 Atlas Valley & Sahara 5D/4N
2-day trek through Toubkal National park & the Berber villages followed by 3 days Desert Tour visit Kasbah Ait Ben Haddou & Sahara desert camel ride, with overnight stay in camp
Excursions And Trips From Marrakech
If your holiday time does not allow to you to do long trek do not miss the chance to visit the following places: Imlil & Ourika Valley, Tin Mal Mosque, Ouzoud Waterfalls Day tours, Best trails to walk. Our walking tours have been selected and designed to appeal to all levels of fitness.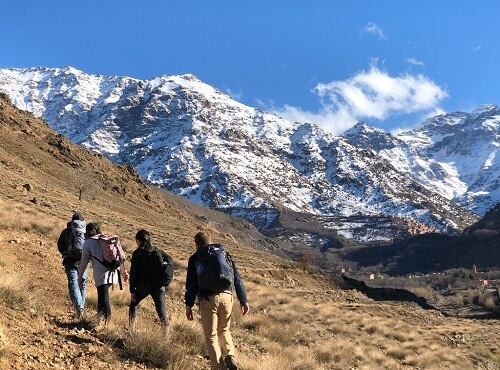 Imlil Valley Day Trip
Take a Day excursion from Marrakech to Imlil Valley and visit the Berber villages of the high Atlas mountains in full Day trip from Marrakech. This full-day excursion…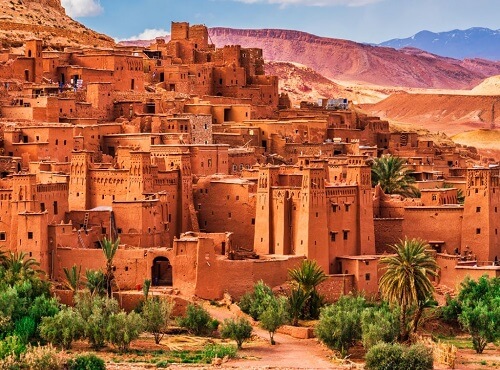 Ait ben Haddou Kasbah
The ksar, a group of earthen buildings surrounded by high walls, is a traditional pre-Saharan habitat. The houses crowd together within the defensive walls.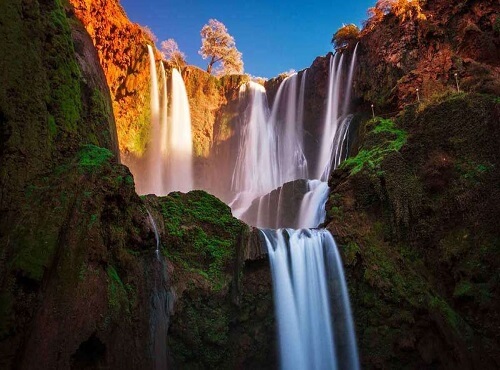 Ouzoud Waterfalls Day Trip
Ouzoud Waterfalls 110 m high are located in the High Atlas Central of Morocco, in the province of Azilal, 150 km northeast of Marrakech, best waterfalls in Morocco ..
PEOPLE WHO EVER TRIED OUR EXPERIENCE PACKAGES , ALWAYS COME BACK FOR SOME MORE. BECAUSE, WE REALLY HAVE EVERYTHING FOR YOUR PLEASURE.
John Doe
@John Doe
I had never done anything like this before and a ten day trek is a big first step, but Brahim and the Sherpa's could not have been more friendly and helpful, Brahim grew up in Imlil so he knows the area better than his own house! The countryside and Atlas Mountains are stunning and every single village is welcoming. Bring sweets for the children and maybe a ball for them as well. 10/10 orem ipsum dolor sit amet, consectetur adipiscing elit. Ut elit tellus, luctus nec ullamcorper mattis,
Anthony
@Anthony
A group of four of us did the Toubkal/Sahara 5-day trek and could not be happier with the trip. Brahim was knowledgeable, patient and flexible to our needs and directly contributed to making our trek so special. I highly recommend Brahim to anyone looking for an authentic experience as well as wants to see jaw dropping views in mountains, desert and gorges
Dieter S
@Dieter S
I also thought about climbing Jebel Toubkal at first. But luckily I decided to take it more relaxed on lower altitude. And the 4-days hike into the Berber valleys was excactly what I was looking for. Climbing over mountain-passes and walking down into deep valleys gave enough exercising for my body. Being surrounded by high mountains, beautiful landscapes, interesting geology, sunny weather ... while you get a brief insight into the Berbers life gave a lot of peace and inspiration for my soul.
Anne
@Anne
A year ago exactly, october 2017 I did a 5 day trek to Toubkal with Climbing Toubkal and had an amazing time. I enjoyed it so much in fact that i couldnt wait to come back and do it all again. This year Brahim guided us expertly through 4 stunning valleys and burber villages for 4 days. His easy going personality made it a pleasure to walk with him. Our cook Omar cooked us fantastic meals in beautiful lunchtime locations and tasty dinners in the gites at night. I think the best food we ate in all of Morocco was in the mountains.