In This volcanic mountains and among the hospitality of Ait Atta tribe saghro offers you a nice medium level hiking trip, also can be done as a familly Trek with different levels
the range of the Anti-Atlas and region forms a bridge between the two contrasting landscapes of Morocco; the snowy peaks of the High Atlas, and the rolling sand dunes of the Sahara desert. Djebel Saghrou, meaning winter warmth, is a vast area of highlands with beautiful volcanic rock formations, basalt peaks, deep long canyons, palm oases, low laying valleys hiding large open green spaces, and lunar barren landscapes. In the winter this region provides refuge to the Nomadic Berbers, who bring their herds to avoid the harsh winters of the Atlas range.Discover the beauty of this enchanting landscape! Elevation: 2000m Travel from Marrakech through Ouarzazate, the gateway to the desert'. From Ourazazate travel onto Boumalne Dades, and Tagudilt, where our trekking will begin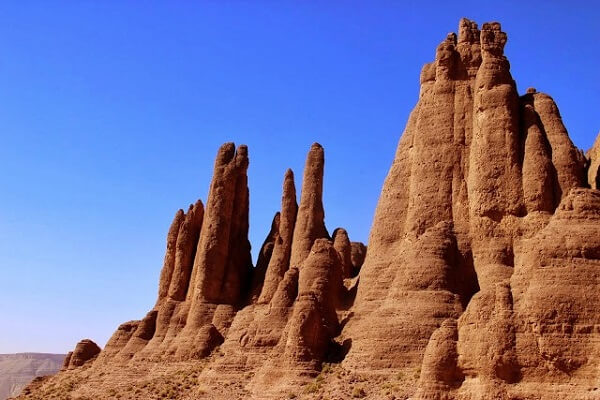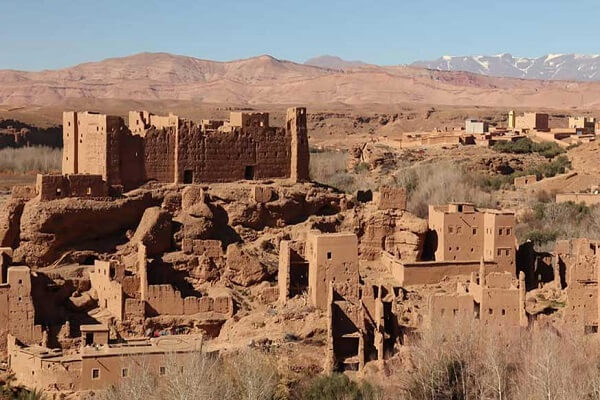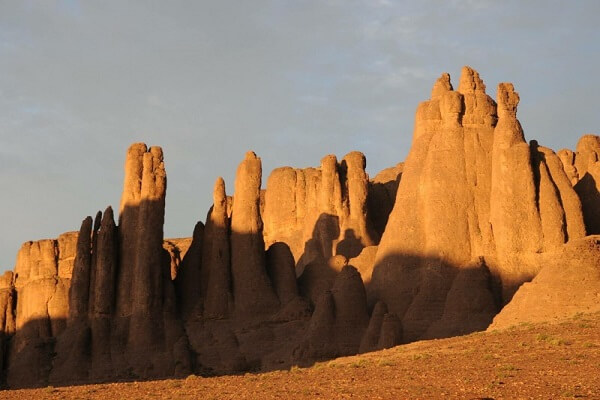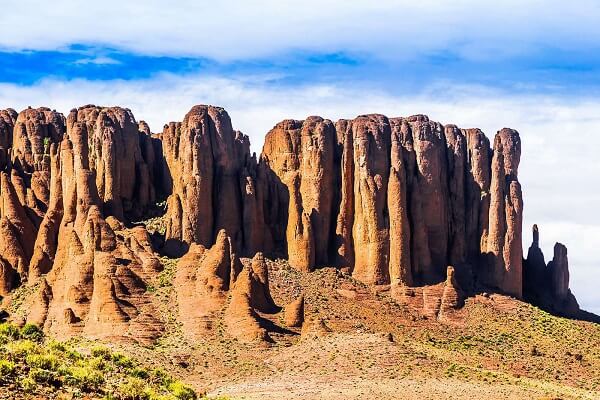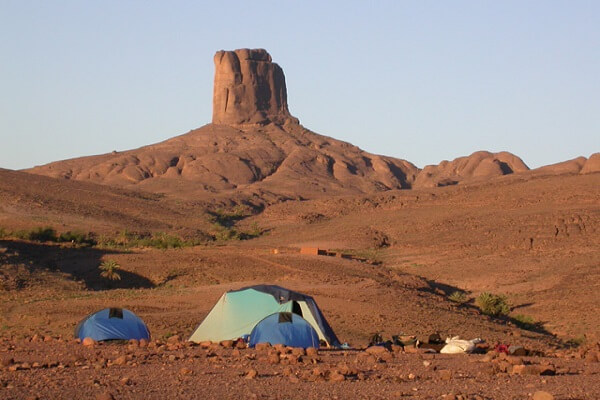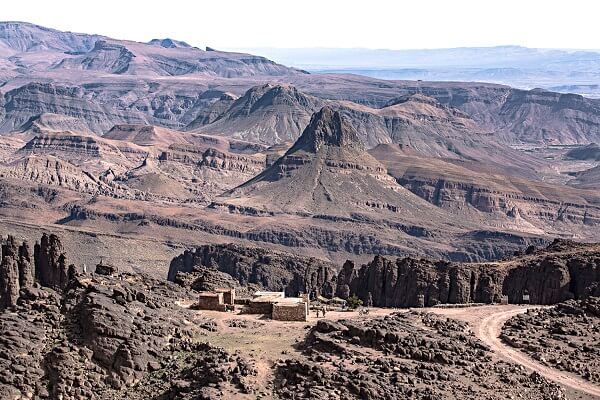 Our guide will pick you up from your accommodation in the morning and we'll cross the High Atlas Mountains via the famous Tizi 'n Tichka Pass at 2260m.  From this pass you have wonderful vistas of the valley and Berber villages nearby. We stop for lunch at an ancient Kasbah in the palm-covered valley of Draa, and spend the night in Nkob.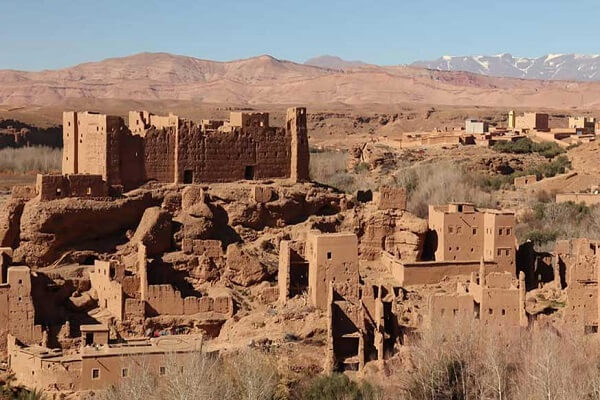 ​We begin our trek in the morning by loading the muleteers with your luggage, then set out to Bab-n-Ali.   We stop for lunch in the Ousdidn Valleythen continue to our camp which lies at the foot of the amazing Bab-n-Ali pinnacles. Total hike time: 6.5 hours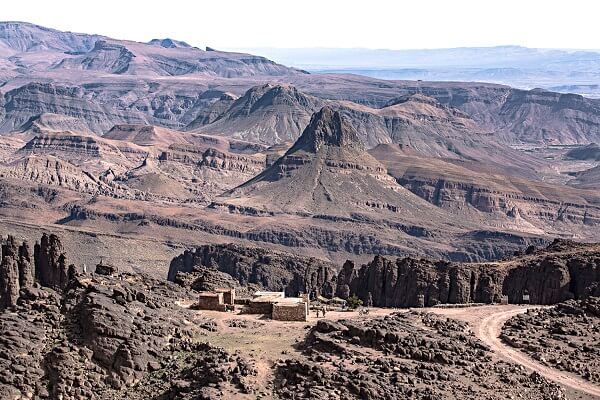 Day 3: Bab n Ali –Ighazzoun
​After enjoying breakfast in the morning sun, we continue our trek towards Ighazzoun.  We cross by
the Bab-n-Ali pinnacles and the unique mountain landscape of Tadawt n Tblah.   We camp in the evening at a beautiful river, perfect for relaxing after a good day's hike.   Total hike time: 6 hours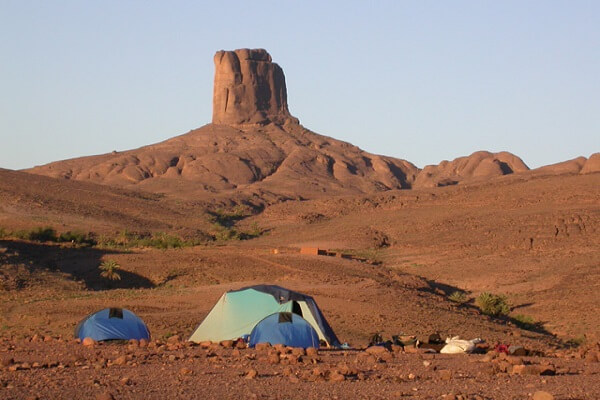 Day 4: Ighazoune n'Oumlas – Handor
​We start our day trekking towards Tizi Olhyan Pass, then down to  the  Valley of Tifdassine. We walk through several local Berber villages and arrive in Hando, which is shrouded in a grove of palm trees. Total hike time: 5.5 hours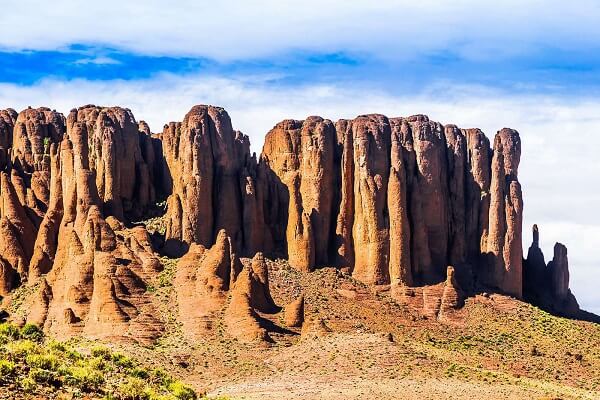 Day 5: Hando –Nkob-Marrakech
Our last trek towards Nkob takes 3 hours.  Upon arriving, we enjoy a short respite in the village before rejoining our vehicle for our journey back to Marrakech. We arrive back in Marrakech by early evening.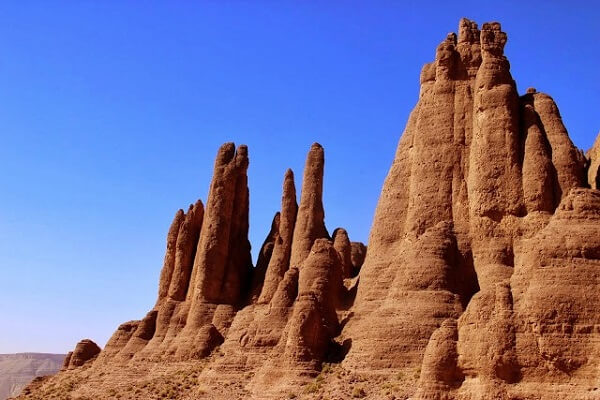 The most affordable price
LEt's start
your journey!