2-Day Atlas Mountains Horse Trek
Explore the mud and stone Berber houses of Ouirgane Valley and the surrounding villages with the different colors of the earth. We will ride through lush green forests of pine, juniper, and oak trees as well as olive orchards and visit the traditional Berber salt mine
atlas mountains horse trek
An exciting horseback trail ride in the midst of the High Atlas mountains of Morocco. Riding courageous stallions, cross the most mountainous landscapes of Morocco, discovering high plateaus and forgotten valleys. Reaching heights of 2000m this riding trail takes you away from the sultry heat of the desert. Strengths – The contrasting landscapes of the High Atlas : green valleys, dry plateaus, red mountains, snowy peaks and dense woodland – Immersion in the heart of the Berber culture : beautiful villages and traditional farming
Day1: Asni - Tizi Ntaraba Plateau - Ait Mizane ( imlil )
We will start in our ride from Asni then go up to the Tizi Ntarabza plateau (1500m) with a view of the Ouirgane and Ait Mizane (Imlil) valley. We will continue to the village of Tinzert (1300m) after having lunch on the plateau in a big forest with some goat and sheep herds. We'll spend the night in a Berber family's home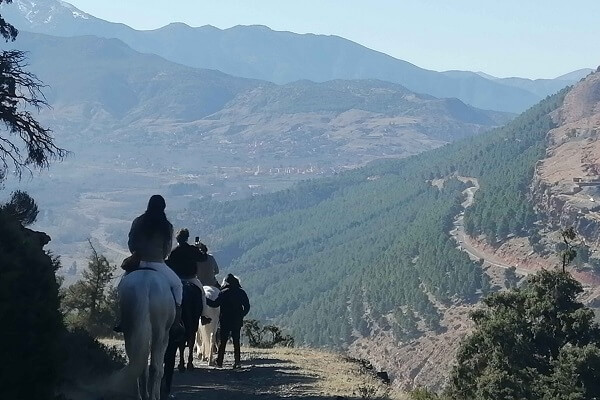 Day2: Tinzert - Imarigh n'Ofala - Ouirgane
Ride from Tinzert down to Imarigha N'Ofala and visit the traditional Berber salt mine (1100m). We'll pass the villages of Imariren Noufla, have lunch nearby the river in Torurod village, and continue on through Aguni, Anraz, and Lkhmis Ouirgane (1000m) and we will finish near the Ouirgane Dam. Head back to Marrakech or Ouirgane to spend the night.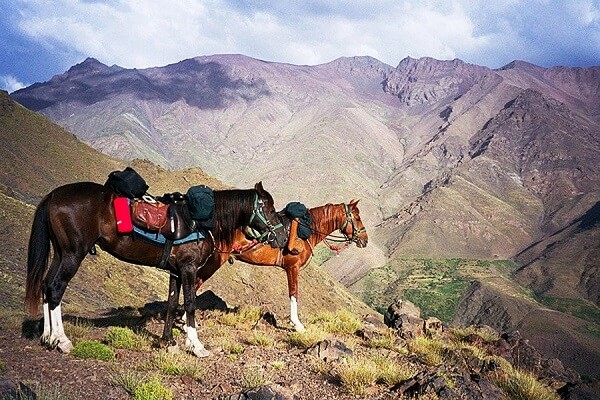 What you Should Know About The Tour:
The most affordable price
LEt's start
your journey!