4-Day Berber Villages Trek
4-Day Berber Villages Trek: Spend 4 days exploring the high peaks of the Atlas Mountains on foot. A hike amidst cool vegetation of juniper is a perfect way to rejuvenate your mind and body. Go across deep gorges, gushing river streams and groves of cherry and walnut trees, as your guide takes you on a great walk up and down the beautiful hills
4-Day Berber Villages Trek: Overlooking the world from the mountain peak sets your mind free. This slightly challenging hike which composes of more ascents and descents than some of our other options, will give you plenty of moments to clear your head. The greens of junipers and pines will be quickly replaced by the browns of old houses and terraced fields of corn and barley which perfectly demonstrate the cultural adaptation to nature.
Berber villages are farming communities and terraced fields with their crops play a crucial role in the village life and economy. They are connected with ingenious irrigation channels so they are never without life giving water to the settlements.Throughout the trek it is curious to observe how the local people use the inaccessible terrain to get the most from it. All the fields are the same, but also different in detail
Berber villages are farming communities and terraced fields with their crops play a crucial role in the village life and economy. They are connected with ingenious irrigation channels so they are never without life giving water to the settlements.Throughout the trek it is curious to observe how the local people use the inaccessible terrain to get the most from it. All the fields are the same, but also different in detail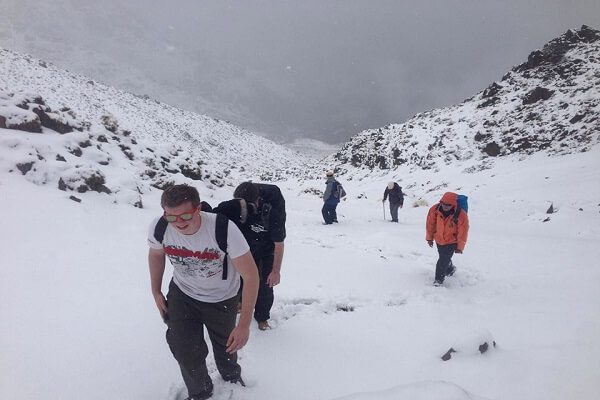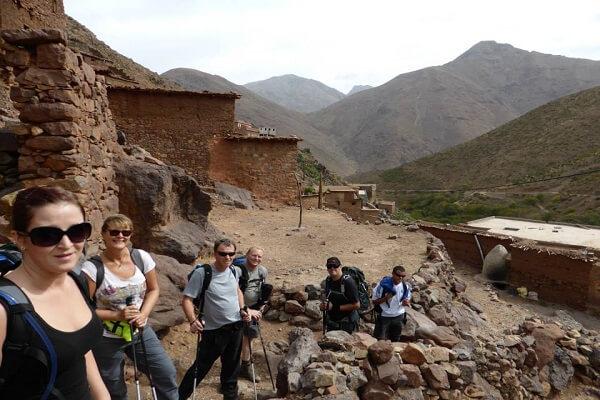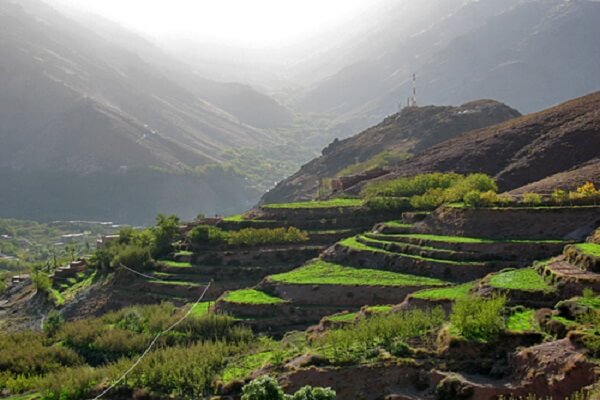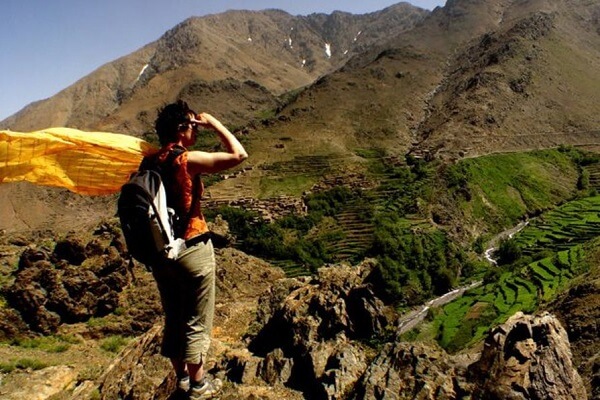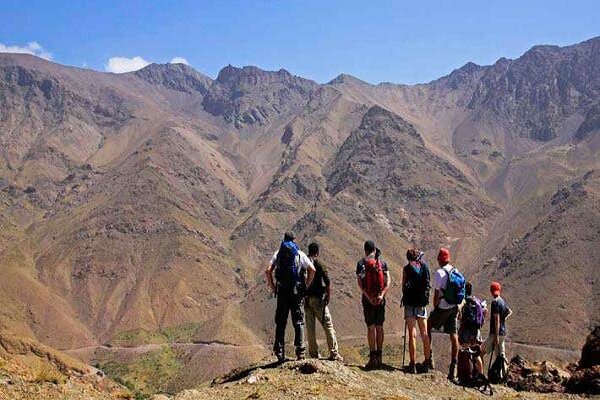 Day1 : Marrakech –imi oughlad –tizi n'tachte –tiziane :
Departure from marrakech for a pleasante drive south winding our way up through the moulay brahim gorge and upper valleys to arrive at the higher foothills of the western high atlas  mountains and our trailhead of imi oughlad with the jbel toubkal , here we alight from our vehicle  and meet up with muleteer crew .  We set off up in north-westerly direction for a 2hour acclimatisation hike up  , passing by cornfields woods pine and juniper  to the tiz n'tachete ,where we shallstop to look back down on the imlil  before carrying on for another half hour to imi n'ifri and our field picnic .thence  a slow hike for about 2 and half hours  south-west  down along a dirt track to assif n' ait oussaden and the red clay terraced village of tiziane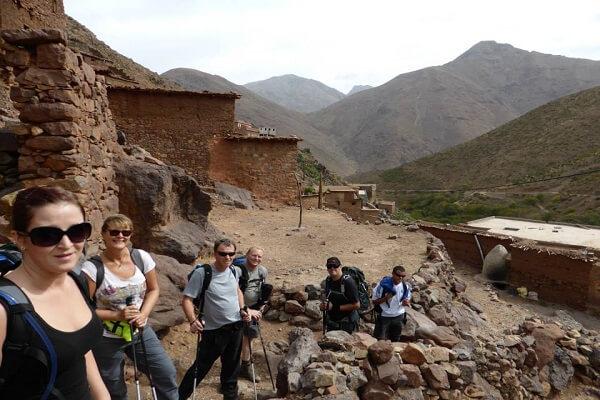 Day2 : Tiziane – tizi n'taghrhourte – D'knt :
After breakfast  we now set off on our hike up along the assif n'ait oussaden valley , passing through the wallnuts groves , up to tizi n'taghrhourte  (1995m) and through to a rare almost flat strecth to arrive  at assaka  spring, where we will  stop for our field picnic amidst and awesome silence after some 2 and half hours relatively easy walking .our afternoon's hike takes  us down along the edges of the forest  untill  we reach the berber village of D'knt (1870m) or agouns n Assoul  where we will have our dinner  and spent the  in a  bivouac or gite .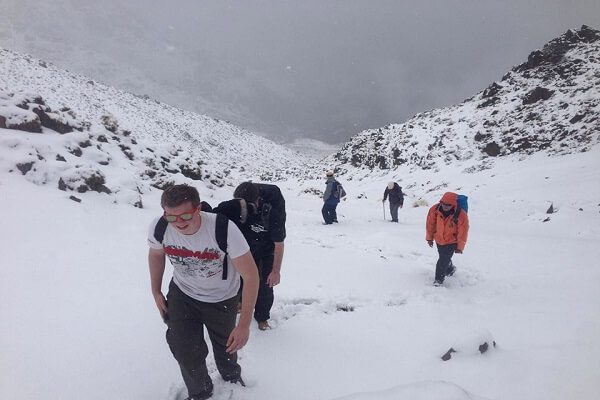 Day3 : D'knt – tizi n'tagdalte – Tizi oussem :
We set off for our morning's 3 hours hike up  through groves of walnut trees, fields of corn and barley to greet the many sheep and goatherders – and women . We traverse the tizi n'tagdalte  to the descent  amongst the juniper trees till we come to a small  spring set amongst the trees , where we will stop for our picnic .once refreshed , we are off down winding tracks of upper slopes for some 3hours to come to a small  river at the beginning of the valley of assif n'ait oussaden . from here we enter the village of tizi oussem (1850m) then up to the summer village Of Tamsoult  for our camp or gite.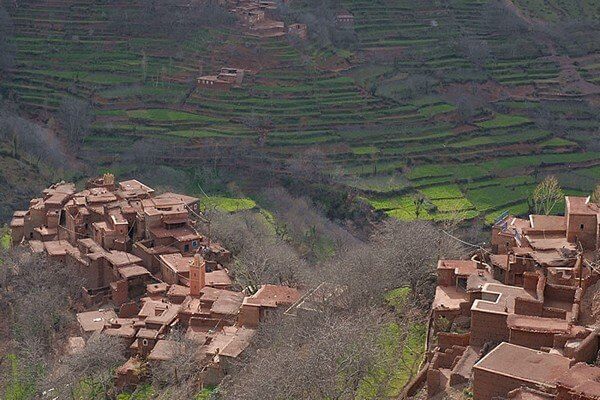 Day4 : Tizi oussem  -  ighouliden waterfalls - Tizi n Mzik - Imlil:
Today involves a fantastic climb out of the Azzadene Valley. You'll head up the valley towards the summer village of Azib n Tamsoult from where you'll headup  to Ighouliden waterfalls prior to trek back over  the pass at Tizi n Mzik (2489m) for lunch  before descending down into Imlil and spend the night in Our place in imlil. or go down to marrakech.
Aprox 5 to 6 hours walking.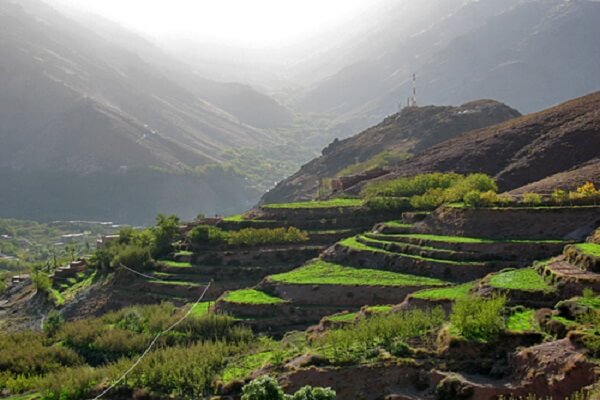 The most affordable price
LEt's start
your journey!