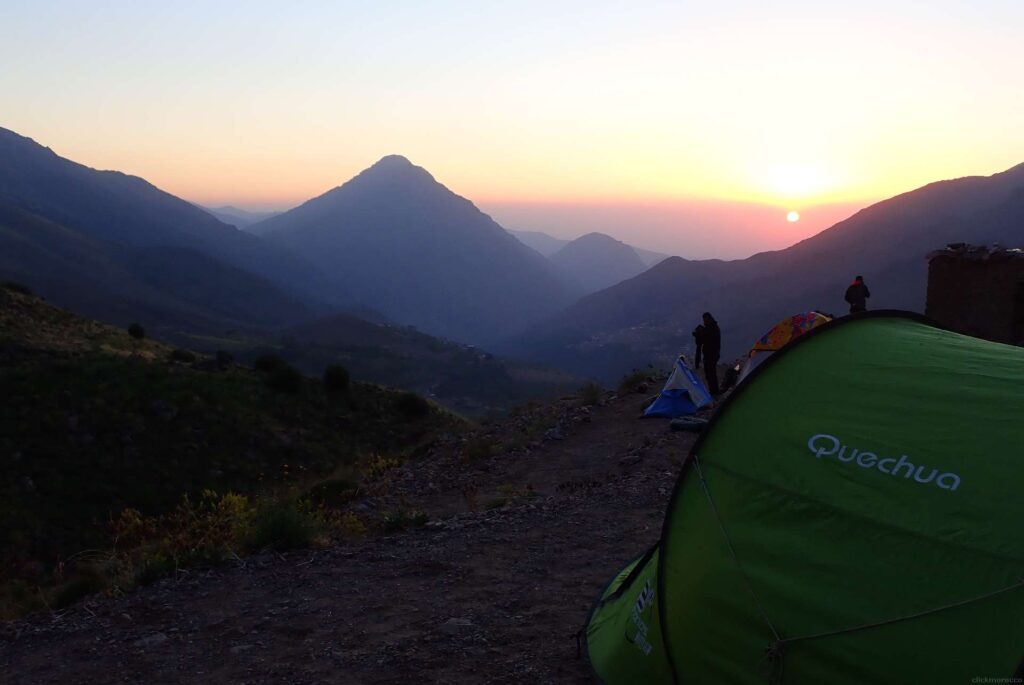 Trekking in Morocco Atlas Mountains
Trekking in the Atlas Mountains of Morocco is a captivating experience that offers a blend of natural beauty, cultural immersion, and outdoor adventure. The Atlas Mountains stretch across the country, offering a variety of trekking routes for all levels of hikers.
As you explore the mountains, you'll encounter stunning landscapes, including lush valleys, towering peaks, and traditional Berber villages. The trails wind through picturesque terrain, allowing you to witness breathtaking views and encounter unique flora and fauna along the way.
Immerse yourself in the local culture by staying in traditional guesthouses or camping in the mountains. Experience the warm hospitality of the Berber people, taste delicious Moroccan cuisine, and learn about their ancient traditions and way of life.
Whether you choose a day hike or a multi-day trek, the Atlas Mountains offer something for everyone. From the challenging ascent of Mount Toubkal to more leisurely walks through scenic valleys, trekking in the Atlas Mountains is a must-do experience for nature lovers and adventure seekers visiting Morocco
Where to trek in Morocco ?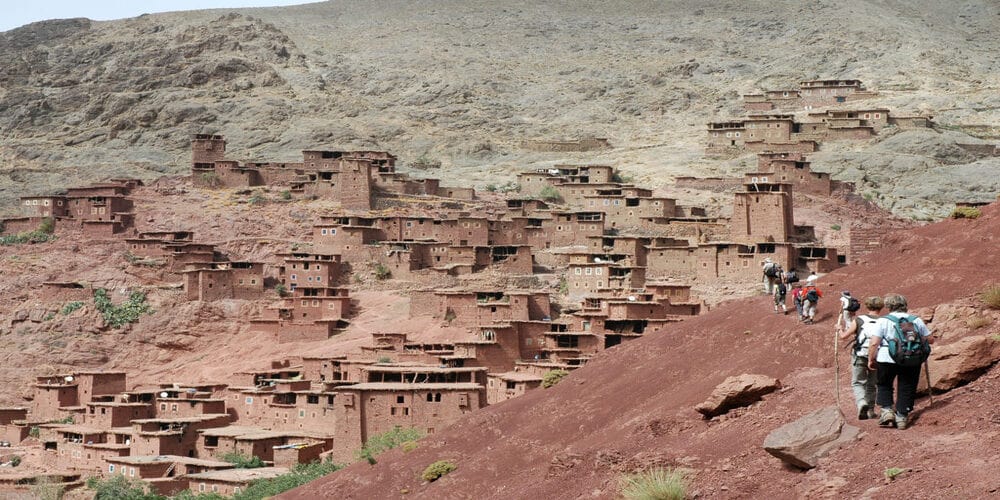 Morocco offers a variety of stunning trekking destinations. Here are a few popular places to consider for trekking:
1. High Atlas Mountains: This mountain range is a trekking paradise, with Mount Toubkal being the highest peak in North Africa. Explore the Toubkal National Park, hike through beautiful valleys like the Azzaden Valley, and experience the unique Berber culture.
2. Anti-Atlas Mountains: Located in southern Morocco, the Anti-Atlas Mountains offer a rugged and remote trekking experience. Discover hidden oases, ancient villages, and dramatic landscapes, such as the stunning Jebel Siroua.
3. Jebel Saghro: Situated between the High Atlas and the Sahara Desert, Jebel Saghro is known for its volcanic formations and lunar-like landscapes. Trek through this lesser-known region and enjoy its peaceful and breathtaking scenery.
4. Rif Mountains: Located in northern Morocco, the Rif Mountains offer a more gentle and relaxed trekking experience. Explore the charming blue-washed town of Chefchaouen and hike through the beautiful Talassemtane National Park.
5. Draa Valley: For a different kind of trekking experience, the Draa Valley in the south of Morocco is perfect. Explore the lush palm groves, ancient kasbahs, and traditional Berber villages along the Draa River.
These are just a few examples of the many incredible trekking destinations in Morocco. Each region offers its own unique landscapes, cultural experiences, and challenges for hikers of all levels.
4-Trekking in Sahara Desert
Trekking in the Sahara Desert in Morocco is a mesmerizing experience. The vast expanse of golden sand dunes, known as Erg Chebbi or Erg Chigaga, offers a unique and unforgettable adventure. You can embark on guided treks, camel rides, or even 4×4 excursions to explore the breathtaking landscapes of the desert. Witnessing the sunrise or sunset over the dunes is a magical sight, and camping under a starlit sky is an experience like no other. Trekking in the Sahara allows you to immerse yourself in the beauty and tranquility of this iconic desert, creating memories that will last a lifetime.
best Time to go hiking in high atlas
The best time to go hiking in the High Atlas Mountains of Morocco is during the spring (April to June) and autumn (September to November) seasons. These periods offer the most favorable weather conditions for hiking, with mild temperatures and less chance of extreme weather.
In spring, the snow begins to melt, and the valleys come alive with blossoming flowers and lush greenery. The temperatures are pleasant, ranging from around 15°C to 25°C (59°F to 77°F), making it ideal for hiking. However, it's worth noting that some higher altitude trails may still have some snow, so proper equipment and planning are essential.
Autumn is another excellent time for hiking in the High Atlas Mountains. The scorching summer heat starts to fade, and temperatures become more comfortable, ranging from 10°C to 20°C (50°F to 68°F). The landscapes are beautifully colored with warm autumn hues, creating a picturesque backdrop for your hike.
It's important to consider that the weather can be unpredictable in the mountains, and conditions can change rapidly. It's advisable to check the weather forecast before heading out and be prepared for potential fluctuations in temperature and occasional rain showers.
During the summer months, the High Atlas Mountains can experience high temperatures, making hiking uncomfortable and potentially risky. Winter brings snowfall to higher elevations, making trails more challenging and requiring specialized equipment for trekking.
Overall, the spring and autumn seasons offer the best combination of pleasant weather, beautiful landscapes, and optimal hiking conditions in the High Atlas Mountains.
Can I include the desert in a Morocco trek ?
A distinction must be made between Sahara desert ( sand dunes/ camel treks/ million stars ) and rocky deserts which inform the particular landscapes of the Anti Atlas mountain range and their fringes. Since only a reduced part of the Sahara desert actually lies within Morocco, it would make little sense if at all to trek over several days in the dunes, unless you wish to revisit similar landscapes over several days. The change in altitude will also miss from the mix. Can you trek the dunes and the mountains in the same day ? Well, yes and no. Smaller ergs (dunes) are found south of the Anti Atlas mountains, yet the diversity of landscapes will wane and ideally you'd want to keep your senses awake. Especially more so when Morocco is also known for 'getting from snow to desert dunes' on the same day. If you are looking to visit the Sahara desert and trek in the High Atlas mountains, we recommend giving yourself at least 7 days in Morocco.
Why Hike Morocco with a local guide
Hiking in Morocco with a local guide offers numerous advantages and enhances the overall experience of exploring the country's diverse landscapes. Here are a few reasons why hiking with a local guide is beneficial:
1. Local Knowledge: Local guides have extensive knowledge about the hiking trails, terrain, and weather conditions. They can provide valuable insights into the culture, history, and flora/fauna of the region, enriching your understanding and appreciation of the surroundings.
2. Safety and Navigation: Hiking in unfamiliar territory can be challenging, but with a local guide, you can navigate the trails confidently. They know the best routes, potential hazards, and can ensure your safety throughout the journey.
3. Cultural Immersion: A local guide can facilitate meaningful cultural interactions and help you connect with the local communities. They can translate conversations, introduce you to traditional customs, and provide insights into the local way of life, enhancing your cultural experience.
4. Language Barrier: Language differences can sometimes pose challenges while traveling. Having a local guide who is fluent in the local language(s) can help bridge the communication gap and facilitate smoother interactions with locals.
5. Support Local Economy: Opting for a local guide supports the local economy and promotes sustainable tourism. It creates employment opportunities for local communities, empowering them economically and socially.
6. Hidden Gems: Local guides possess insider knowledge of hidden gems, off-the-beaten-path trails, and lesser-known attractions that may not be easily accessible or well-known to tourists. They can take you to stunning viewpoints, secret spots, and unique experiences that you might miss otherwise.
Hiking with a local guide in Morocco ensures a more immersive, authentic, and enriching experience, allowing you to truly connect with the landscapes, culture, and people of this beautiful country.
How expensive it is to trek in Morocco ?
The cost of trekking in Morocco can vary depending on various factors, such as the duration of the trek, the level of accommodation, the services included, and the number of people in your group. On average, a multi-day trek in the Atlas Mountains can range from $50 to $100 per person per day, which typically includes a guide, meals, and accommodation in mountain guesthouses or camping. Additionally, there may be additional costs for transportation to and from the trailhead, equipment rental, and tips for guides and support staff. It's important to research and compare different trekking companies or guides to find the best value for your budget.
What to pack for a Morocco trek ?
When preparing for a trek in Morocco, it's important to pack appropriately to ensure your comfort and safety. Here are some essential items to consider:
1. Hiking Boots: Choose sturdy, comfortable boots with ankle support for uneven terrain.
2. Clothing: Pack lightweight, moisture-wicking clothing for layering, including long pants, long-sleeved shirts, and a fleece or jacket for cooler evenings. Don't forget a hat and sunglasses for sun protection.
3. Rain Gear: Bring a waterproof jacket or poncho and waterproof pants to protect against unexpected rain showers.
4. Backpack: Carry a comfortable, well-fitting backpack with a capacity to hold your essentials, including water, snacks, and extra layers.
5. Water and Snacks: Carry a reusable water bottle and pack energy-rich snacks like nuts, dried fruits, and granola bars.
6. Sunscreen and Insect Repellent: Protect your skin from the sun's rays and pesky insects.
7. First Aid Kit: Include basic supplies like band-aids, pain relievers, blister treatment, and any necessary personal medications.
8. Trekking Poles: Consider bringing trekking poles for added stability and support on steep or uneven terrain.
9. Sleeping Bag and Sleeping Pad: If camping is part of your trek, bring a lightweight sleeping bag and sleeping pad for comfort.
10. Personal Toiletries: Don't forget essentials like toilet paper, hand sanitizer, and wet wipes.
Remember to pack light and only bring what is necessary for your trek. It's also a good idea to check with your trekking company or guide for any specific gear recommendations.