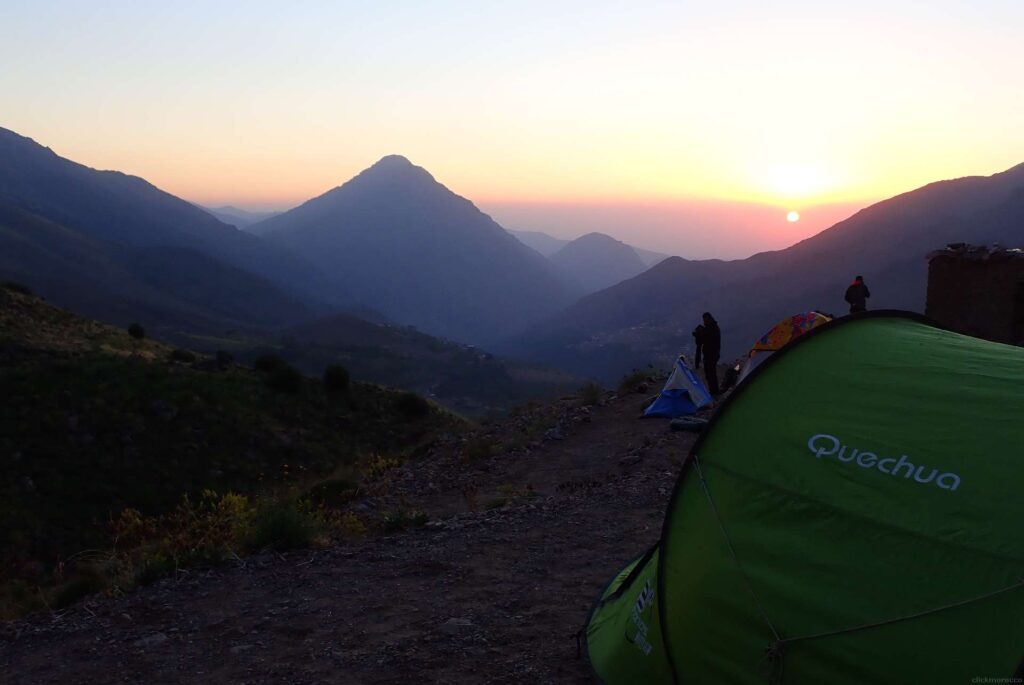 Trekking in Morocco Atlas Mountains
Ever wanted to check off multiple outdoor adventures all in one region of one country? Well, lush valleys, cool canyons and the highest peak in North Africa make Morocco's expansive Atlas Mountains the ultimate playground.
The multi-faceted mountains pass through both Algeria and Tunisia before they stretch into Morocco's Sahara towards the Atlantic coastline. Though much less known than the desert, the roughly 2500 km mountain range lets you sandboard and snowboard only a few hours apart — how's that for diversity?
While the Sahara is surreal for a day or two, as are the major cities, the Atlas Mountains are a treasure trove for varied gems that kept drawing me back for more
Where to trek in Morocco ?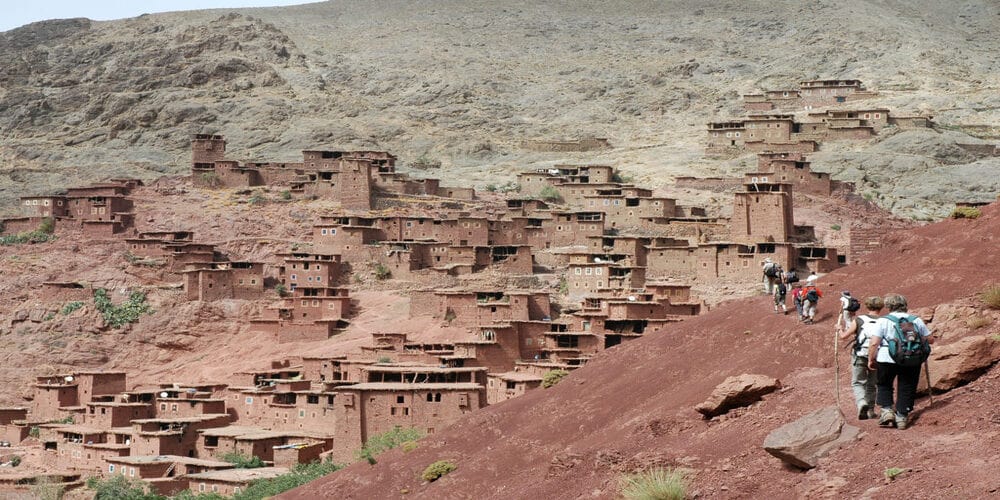 Only a few countries offer a diverse variety of landscapes and panoramas as impressive as Morocco's, which makes the North African country an important travel destination for tourists from across the world who enjoy true adventuring. Morocco offers some of the best places to enjoy outdoor activities, from surfing blue waters to trekking the Sahara desert to hiking magnificent hills and mountains.
Beyond its historic cities and unique and delectable cuisine, Morocco has some of the best hiking locations where you can enjoy dramatic rocky coastlines, snow-capped mountains, lush green valleys, and beautiful natural scenery.
Additionally, hiking Morocco's mountains benefit the body, mind, and soul. It is a "must" for nature lovers travelling to the country.
Visited by thousands of tourists yearly, Toubkal National Park is one of the most famous hiking destinations in Morocco. It has the highest peak in North Africa and the Arab world at 4,167 meters above sea level.
The outstanding mountain, located south of the tourist city of Marrakech, can be challenging to hike yet worth the time. Your tenacity will reward you with breathtaking High Atlas Mountain panoramas and a chance to explore volcanic rocks, narrow valleys, and small, remote lakes.
If you are looking for a unique summit experience, this climbing trip to Mount Toubkal is the best choice. As you may know, it is the highest peak in North Africa and now you have the opportunity to reach its top even if you do not have the technical knowledge
Two to three day valleys and villages treks are not dis-similar to the concept of a Nepalese tea-house trek. These treks are designed with a lighter itinerary (typically 5-6 hrs max walking per day), stay overnight in traditional village gites and where possible your guide will take you for tea in a village home
The journey from Marrakesh to Imlil is a short one of just over an hour. Imlil is a popular hitching post for mountain trekkers in the High Atlas. Sitting at the foot of Mount Toubkal, Imlil makes for a popular starting point for your trek or is just a great place to spend a day.
4-Trekking in Sahara Desert
Lately, trekking in the Sahara desert or camel trekking as it refers to often, become well known in different regions. Trekking in the Sahara during winter and spring is absolutely gorgeous experience and totally different than treks and hikes in the mountains. It is a semi yoga experience when you are walking in the empty wild desert.
Desert Trekking offers a real sense of space and remoteness, especially when witnessed from the tops of the vast dune fields. Most of the treks would be a week of peaceful adventure special in Chegaga dunes. To be accompanied by camels carrying your luggage is already a trip into the past history when people had been using camels to trade crossing the Sahara for thousands of kilometres to different countries including Morocco.
Camping in the desert has not only offer a peaceful mindset, but the starry sky of the Sahara is definitely a magical experience of a lifetime
best Time to go hiking in high atlas
If you are looking for a unique summit experience, this climbing trip to Mount Toubkal is the best choice. As you may know, it is the highest peak in North Africa and now you have the opportunity to reach its top even if you do not have the technical knowledge
Morocco's highest peak at 4,167 meters, trekking Mount Toubkal provides a glimpse in to Amazigh life as trekkers pass through little mud-hut villages where time seems to stand still. Not for the faint-hearted, trekkers are advised to book a national licensed guide and this often includes a mule to carry supplies and a cook to ensure hot and healthy Moroccan cuisine can be prepared in the most remote areas. Starting from Imlil in Toubkal National Park just 90 minutes from Marrakech, trekkers should plan three days to reach the summit and return.
Can I include the desert in a Morocco trek ?
A distinction must be made between Sahara desert ( sand dunes/ camel treks/ million stars ) and rocky deserts which inform the particular landscapes of the Anti Atlas mountain range and their fringes. Since only a reduced part of the Sahara desert actually lies within Morocco, it would make little sense if at all to trek over several days in the dunes, unless you wish to revisit similar landscapes over several days. The change in altitude will also miss from the mix. Can you trek the dunes and the mountains in the same day ? Well, yes and no. Smaller ergs (dunes) are found south of the Anti Atlas mountains, yet the diversity of landscapes will wane and ideally you'd want to keep your senses awake. Especially more so when Morocco is also known for 'getting from snow to desert dunes' on the same day. If you are looking to visit the Sahara desert and trek in the High Atlas mountains, we recommend giving yourself at least 7 days in Morocco.
Why Hike Morocco with a local guide
At ClimbingToubkal, we're focused on local guides to give an authentic Atlas Mountains tour. Our team of 15 guides includes city guides, mountain guides and guides who can also take travellers out skiing. We do a lot of Atlas Mountain treks in the desert, as well. I started as a second guide in 2008 but became certified in mountain guiding in 2012. I've always wanted to be a guide, since I was a child, because I was born in a local village in the Atlas Mountains at 6,069 feet (1850m) above sea level.
I had my education locally and then traveled to the city where I studied at a university. My aim was always to end up hiking in the Atlas Mountains because I love the mountains, and I love my local village. That's why I decided to walk a lot and follow another local guide to see how he worked. I wanted to show people about our culture, our traditions and about trekking in Morocco. I do everything I can to share with people from here or outside Morocco. My love for the place I grew up in is where the decision came from to become a guide. I love the Atlas Mountains and love to share my experience with people from all over the world.
How expensive it is to trek in Morocco ?
The expenses can be minimal if you are planning on self autonomy. We wouldn't recommend that option though, first of all from a safety point of view ( more on that in the Is it Safe paragraph). If you employ the services of a local guide, foresee a fare of about 300- 400 dirhams ( 30- 40 US dollars) per day. If you are looking to also have a muleteer and a mule to carry some of your luggage and cook one or two hot meals a day, the fares will considerably increase. Don't forget to factor in the transport from the main city ( Marrakech, Casablanca or Agadir ) to the starting point of your trek. Some of these locations can be accessed by public transport ( collective taxis ) whereas for others you will need either a driver with a 4×4 or a rent- a- car.
What to pack for a Morocco trek ?
Even in winter months, the sun can be ruthless. We suggest a wide brim hat. Ankle- level hiking boots are essential, considering the rocky terrain. Crampons will make a difference, notably since much of the time you'll be walking on slippery surfaces. Wearing low- ankle shoes may expose you to jags, low spiky thickets and other rolling rocks. They don't have to be waterproof- the likelihood of rain is quite scarce. From March to mid November a light sleeping bag will do. The rest of the year, we suggest a reinforced sleeping bag, capable to endure temperatures as low as -5 Celsius. Mountain water sources are not as dense as in other mountain ranges around the world, so we'd suggest carrying at least 2 liters of water with you at all times. Locally, you are not offered a great choice of canteens or collapsible water bottles, so think of bringing your own.
Maps and itineraries: there are some written guides but not as many as you'd expect. In general, we always recommend employing the services of a local guide, even when the trek is easy and the change in altitude is minimal. Most of the them will speak French and some speak English.
Autonomy and mules: it is practical hiring mules through your local guide, if you wish to not have to carry all of your provisions, tent, sleeping bag, etc. Having a mule and a muleteer which doubles as a cook ensures at least a warm meal every day. Please remember there are very few refuges in Morocco compared to Europe or other parts of the world. Naturally, from time to time, even if you only have a local guide with you, you'll still be able to arrange for a hot meal here and there.
Camping and making fires: there are literally no camping sites up in the mountains. It's more or less a question of camping on a plain surface and devoid of rocks. Even the rockiest or steepest of landscapes can be someone's property, but your guide will smooth out any lost- in- translation situations. For any trek more than an overnight, you'll need a gas cartridge and stove ( can be bought locally). It is forbidden to light fires inside national parks. If you are outside a national park, consider the fact that wood is scarce in Morocco and the local shepherds and nomads need it for their daily use.