What you Should Know before you climbing Mount Toubkal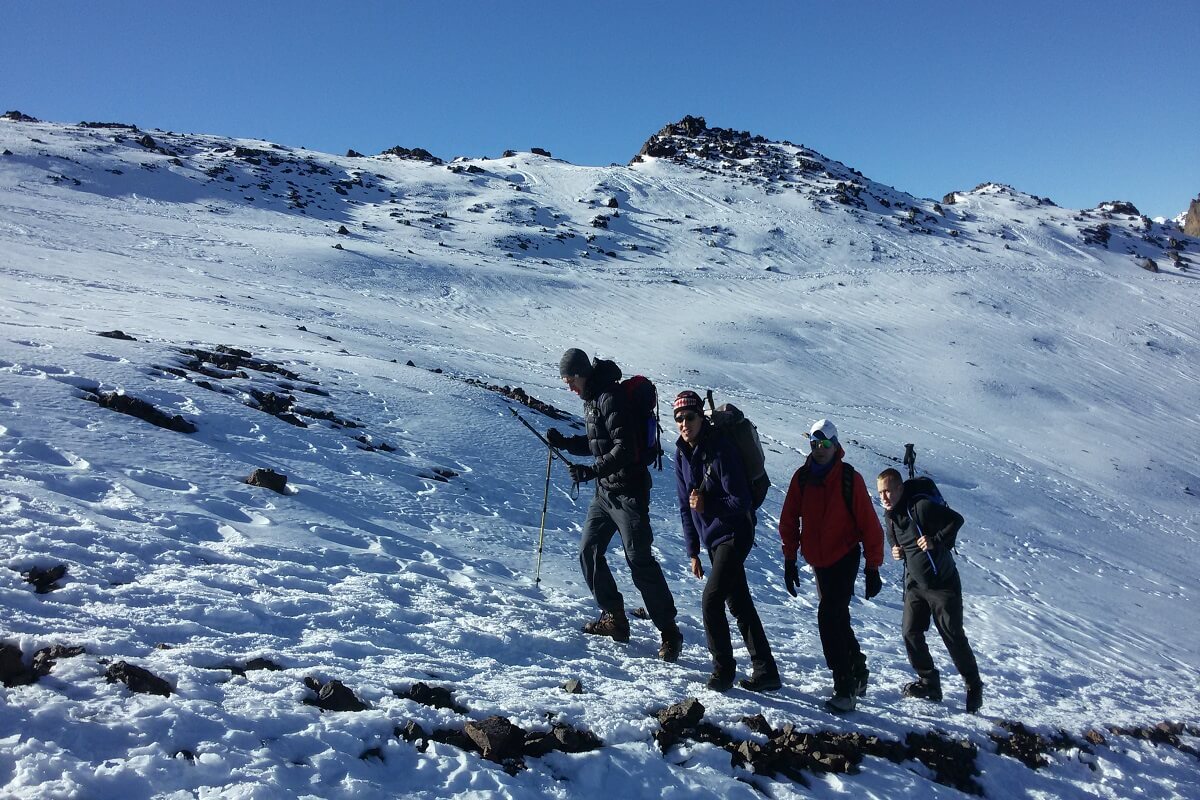 what you should know before you climb Mount Toubkal? Despite the backdrop of the Atlas Mountains, most people would associate Morocco with wandering around the souks, camel rides through the desert and enjoying copious amounts of mint tea. While the latter is true, Mount Toubkal is a peak that isn't so well known amongst non-mountaineers but stands at an impressive 4,167 metres (13,671 ft) with incredible views of rural Morocco.
Mount Toubkal or Jebel Toubkal is the highest peak in the Atlas Mountains, Morocco, and North Africa. Toubkal is apart of the Atlas Mountain Range and is located in the southwestern part of Morocco, about 60 km south of Marrakesh. it is an ultra prominent peak, the highest for over 2000 km and a popular destination for climbers.
Jebel Toubkal is not that high, you can definitely leave your oxygen mask at home. It reaches 4167 meters (13,671 ft) above sea level. Although, if you are not aclimatised this altitude can easily make your head hurt. It takes at least 2 days to reach the top of the mountain and get down to the city at the base of the mountain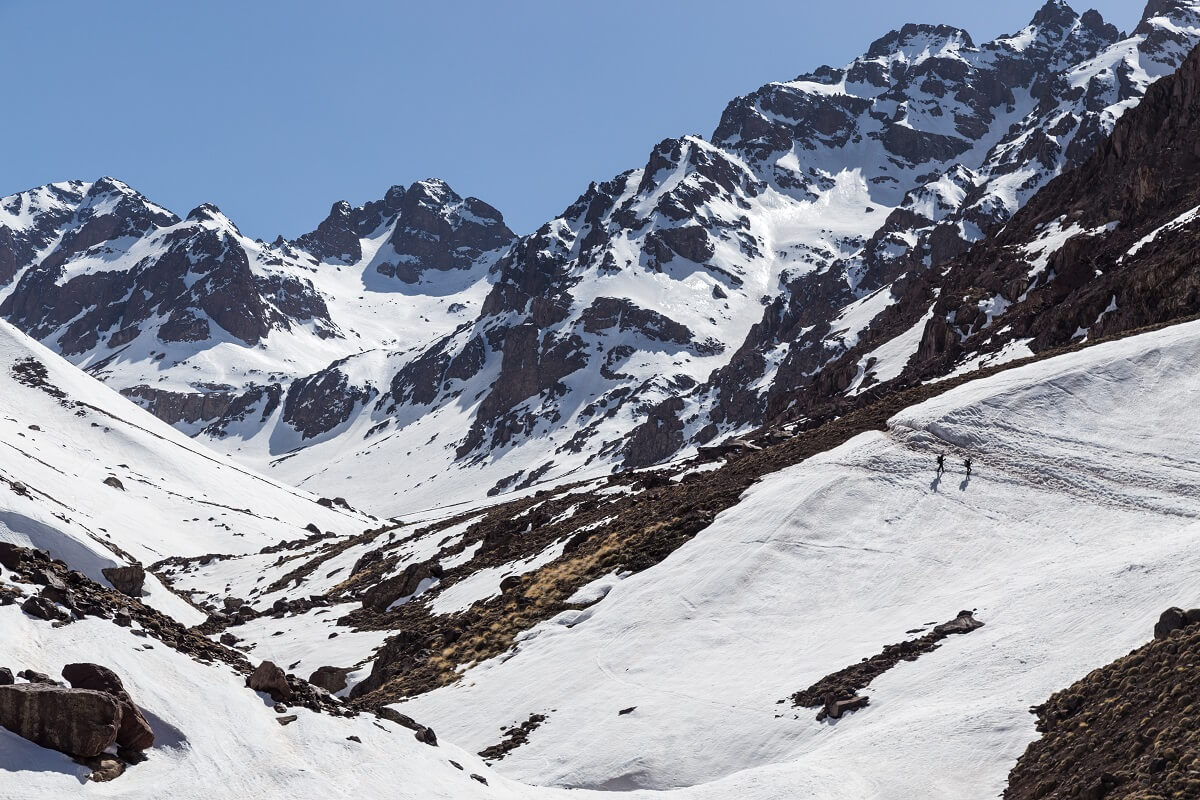 How Long dose it take to climb Mount Toubkal ?
The Mount Toubkal ascent only takes two days, with most of the walking done on the first day.
The first day's trek takes around 5 hours. You will cover 11km of gentle incline over well-defined paths, with time to take in the scenery as well as to acclimatise at the camp at the end of the day.   
'Summit day' starts with a slow walk at steep incline before dawn so you can watch the sunrise over the peaks. Total walking time from the camp to the summit and back down again takes around six hours along a windy, scree slope. You'll continue onto the village of Aremd where you'll stay in a village house for the night, savouring home-cooked food, warm showers and a bed.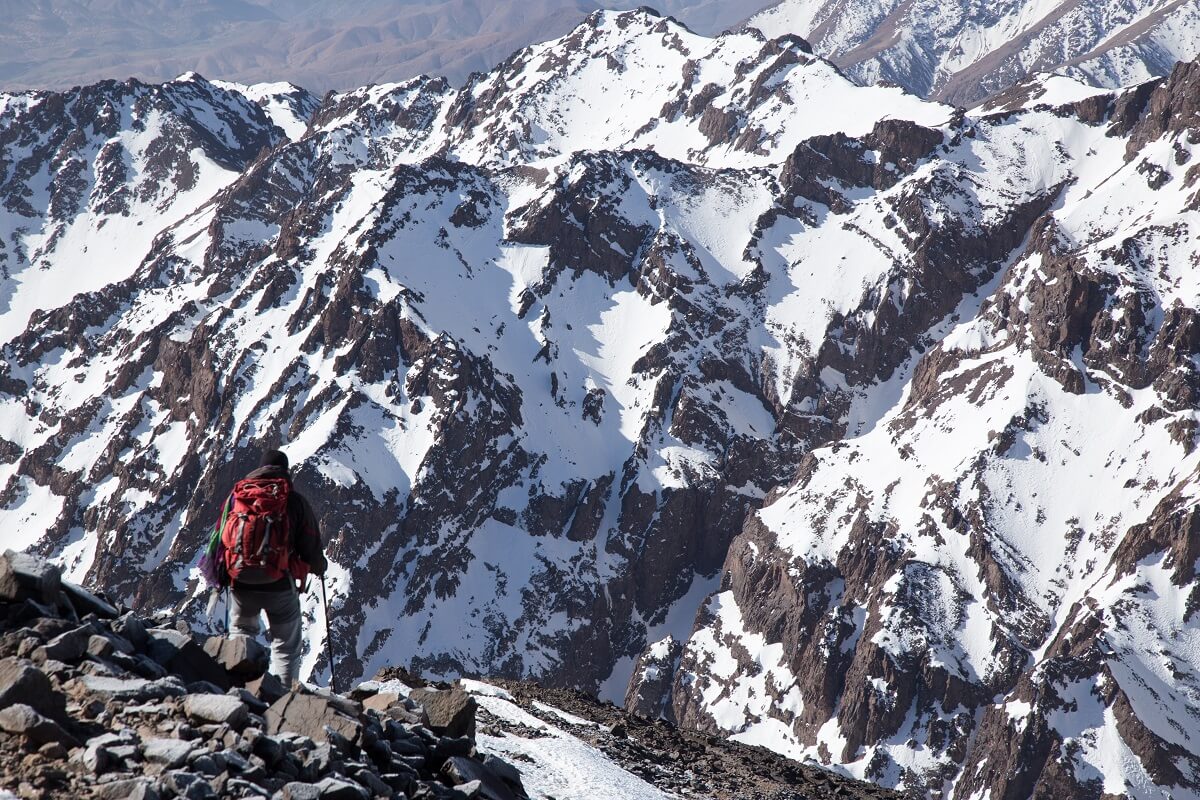 How hard is Mount Toubkal ?
Toubkal (pronounced "tub Kal") requires no technical climbing and most people in good physical condition should be able to make the climb, so long as they are well prepared. But this isn't an easy climb! Injuries and even fatalities do happen.
One of the difficulties of Toubkal is altitude sickness. At the peak, you're only getting roughly 60% of the oxygen that you would at sea level, making altitude sickness a possibility. It's recommended that you climb the mountain over two days to acclimatise.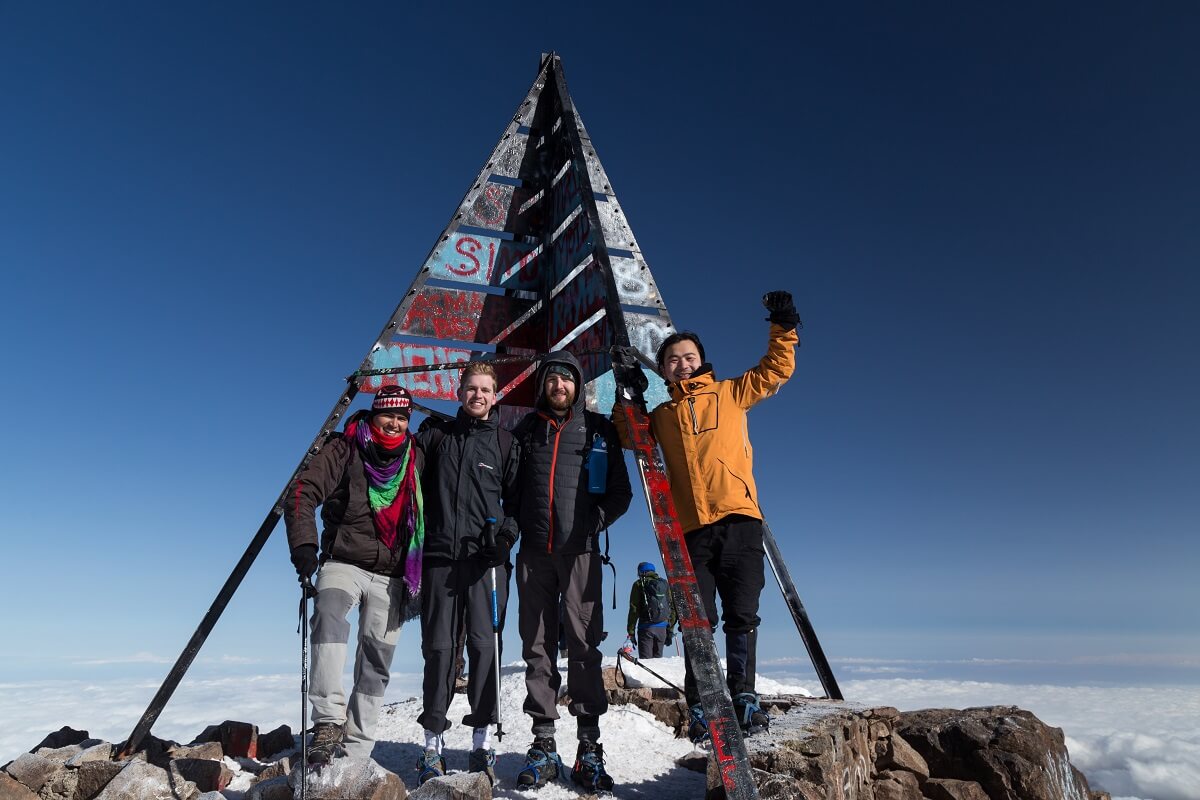 Do I need Crampons for Mt Toubkal ?
Depends when you want to climb the highest mountain in North Africa. If you want to do it in winter time then yes, you might need crampons (although, not necessary). But if you want to do this summit during summer then you definitely not need crampons. For winter climbers if you go to Morocco just with hand luggage it is very easy to rent pair of crampons in Imlil.  2 pairs of crampons and snow protection for 400 dirhams for 3 days.
When should I climb Jebel Toubkal?
Toubkal mountain is open throughout the year. Refuge also. So you can do your summit attempt whenever you want, even in the middle of the winter. If you are professional mountains climber you would want to at least use the crampons, so do it in January-February. Climbing Toubkal in summer is a simple hike at high altitude, there are no technical sections, you do not need ropes or any climbing gear.
Is there accommodation on Mount Toubkal?
There are two refuges on the climb to Toubkal. They are Les Mouflons and Cabine Alpine Francais (CAF). You can book the CAF Refuge, but there is nearly always space at the refuge when you arrive. 
CAF costs 140 Moroccan Dirhams (MAD) per night. That gets you a dorm-style bunk bed (no blankets!). Showers are cold, toilets are lacking toilet paper and soap. The staff are friendly.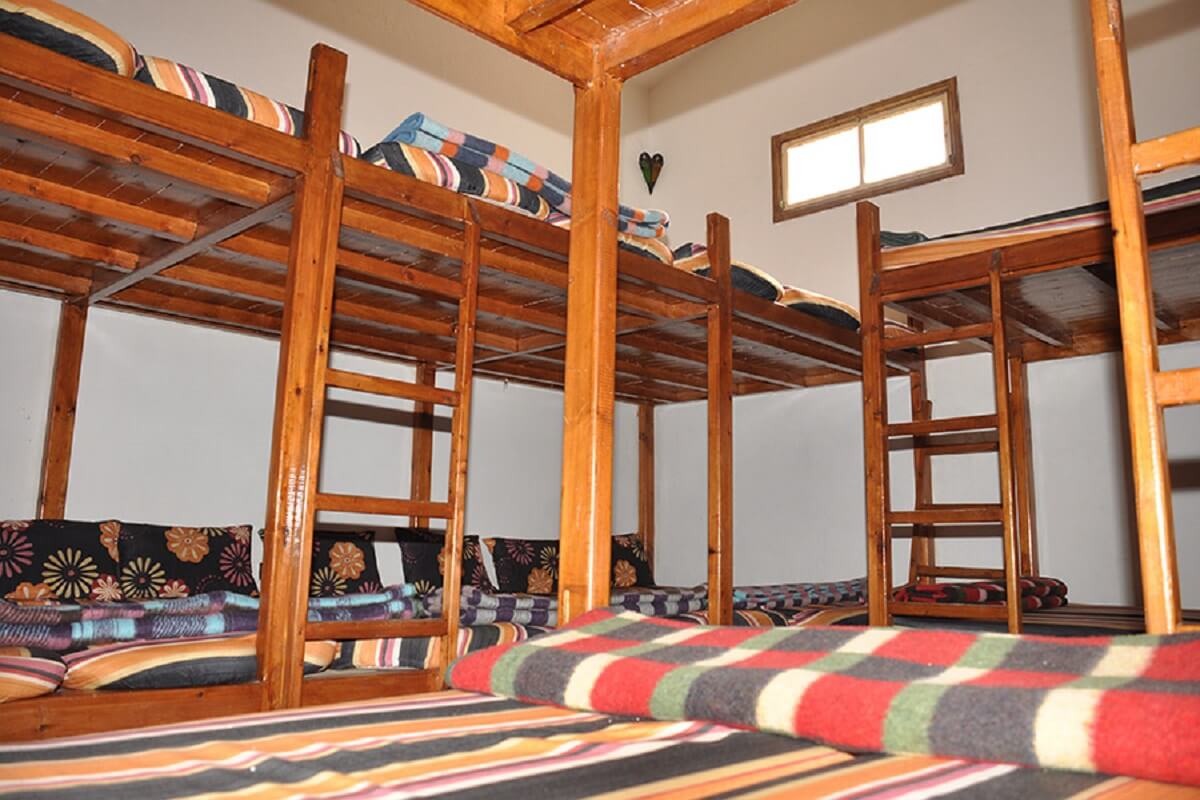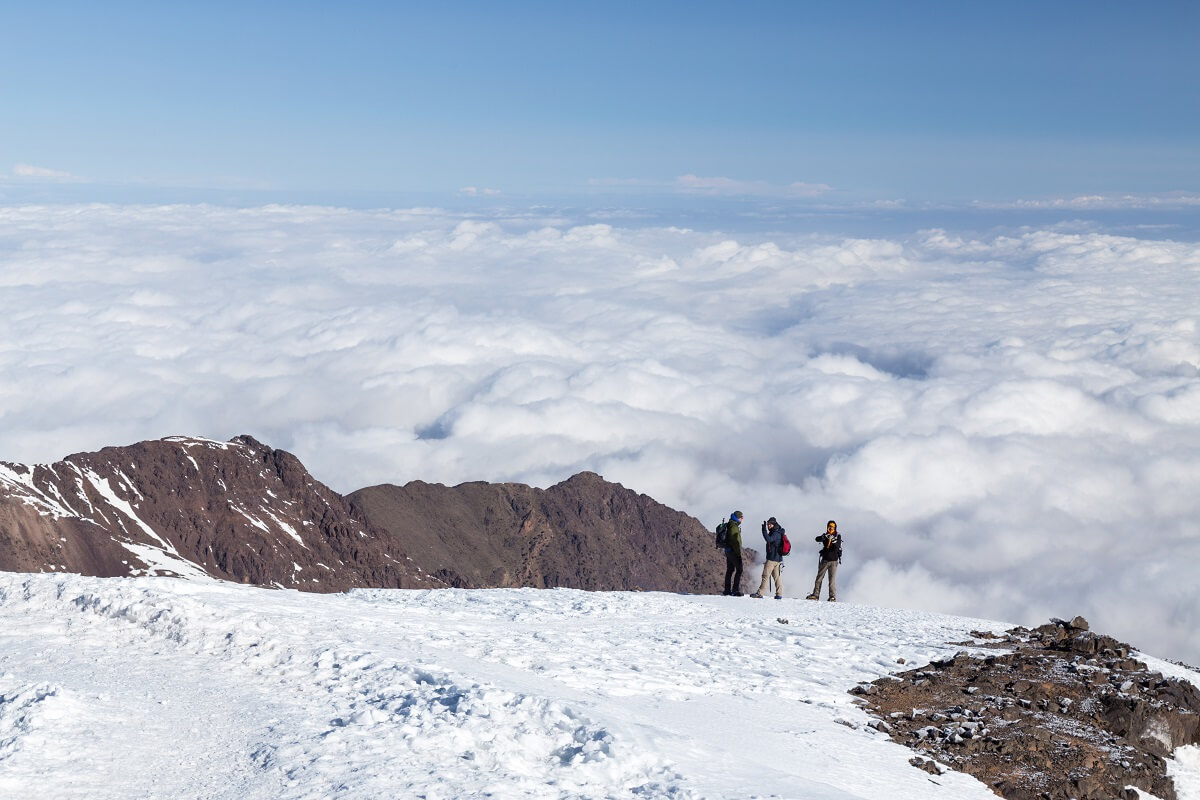 What to Expect on the Trail To Mount Toubkal ?
Most Toubkal trekking itineraries are usually about three days in length. They tend to start in the village of Imlil and head up into the mountains from there. The early stages of the trek are easily managed, with only a slight, gradual rise in altitude. The day 1 route passes through another village or two along the way, and it is not uncommon to encounter vendors along the path who are selling food and drinks too. The trail is very easy to follow and offers little in the way of challenge.
After about four or five hours of hiking you'll reach the CAF Refuge, your campsite for the nights spent on the mountain. The Refuge can be crowded depending on how many other hikers are on Toubkal, but generally speaking, it is a relaxing place to get some sleep prior to summit day.
The next morning you'll launch your attempt on the summit at about sunrise. The second day brings more challenging trekking with steeper trails and rock-filled scree fields. It takes about three to four hours to reach the top, which is marked with a colorful, pointed tripod. On a clear day, the views from the peak can be very nice, but oftentimes, high winds can blow dust and sand into the air, obscuring even other mountains in the Atlas Range.
After spending some time at the summit, you'll head back down. The descent tends to be faster, requiring only two or three hours, but tired legs can make the hike a surprisingly difficult one. Loose scree can make for precarious footing at times, but trekking poles can prove invaluable for keeping your balance.
Once back at the Refuge, some trekking groups will elect to continue back to Imlil, completing the climb in just two days. Others will spend another night at the campsite before proceeding down the following day, which helps to break up the trek to a degree.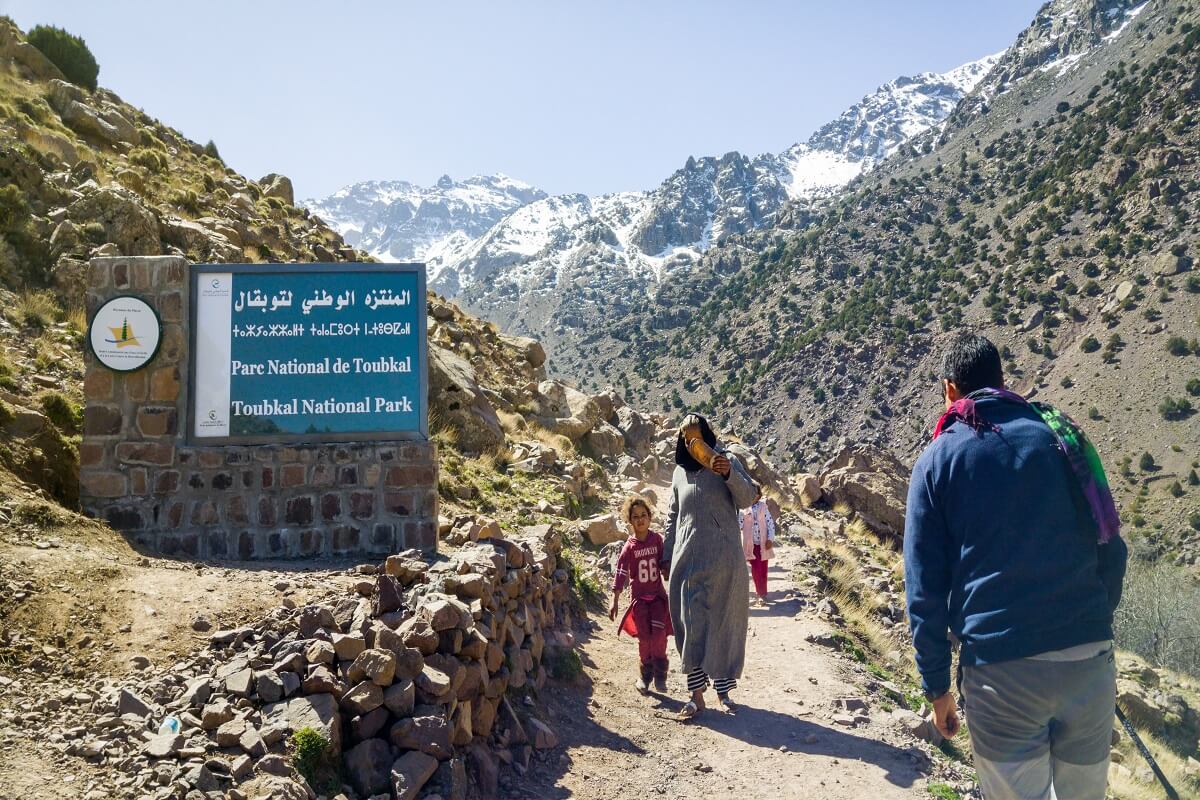 After the crime of Shamhruch .. prevent the climb to Mount Toubkal unless these conditions are met
The most important of which is the need to provide the national card for Moroccans and the passport for tourists in four inspection areas that were established along the road leading to Mount Toubkal. In addition to the number of days the visitor will spend in the area and Mount Toubkal, and the places he will visit.
All those wishing to use a tour guide familiar with the terrain, in order to accompany them on their trip to avoid any problems may be encountered.
Among the other measures described as extreme, the tents were not allowed to be installed in the park until a permit was obtained by the local authorities.
In a related context, was also prevented to go to the area of ​​Toubkal after 3 pm, where was prevented many people who tried to climb the summit of Mount Toubkal during the past days
every group should be accompanied by a local guide, and the new thing is the size of a group for one guide is 6 people

Working with meteorological data from November 1st to the end of March. that means that if the weather is not good they have the right to stop people of going up

 Maintaining the prohibition decision through the Armad passage instead of the Toubkal shelter whenever bad weather conditions call for it
Tips make you brilliant at mountain climbing
Some see mountaineering as an unnecessary sport, while others see it as the best example of endurance, sacrifice and challenge. Despite the many risks that can kill a climber, many people love it and find it an amazing way to endure the darkest and most dangerous situations. So if you're planning to climb a mountain and explore it yourself, here's a set of tips to help you achieve your goals.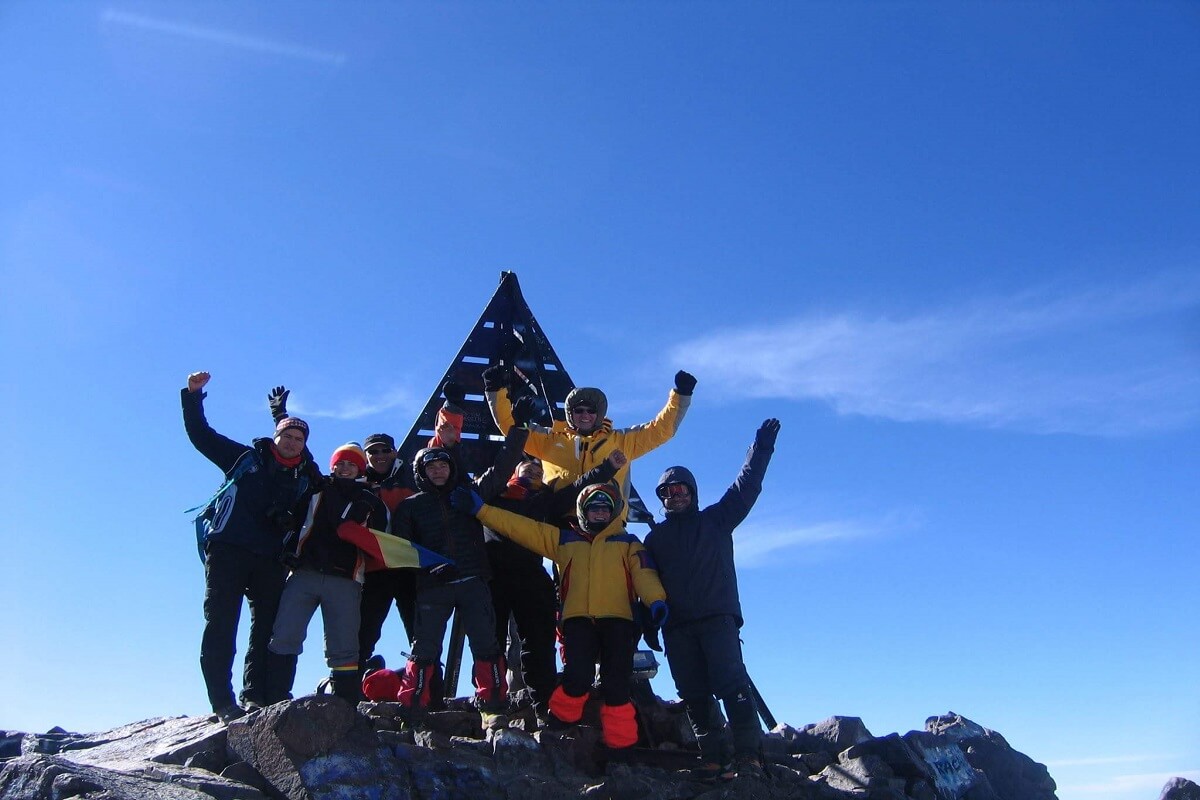 1.Make a thorough search for the right places to climb and read about the skills and experiences of mountain climbers so that you are not exposed to a difficult situation. You need to know the equipment needed to complete the task and read the observations of your predecessors.
2.Mountain climbing depends primarily on your mental and mental abilities before physical ability, so you should know that you may be at risk at any moment, and here you should act quickly and rationally because a second may cause your life to end, or a disaster. To develop mental abilities, is to see the observations of your predecessors in this sport as mentioned in the previous point
3. Before going to climb the mountain, you must undergo a long workout that helps you raise your fitness level and provides you with the means you are looking for to perform the adventure in a perfect way without muscle strain or cramps while you are half way through, A halt in the middle of the road means the inability to complete the journey up or return to the starting point again.
4. Before you climb any mountain, you will need many equipment, often expensive. You have two options. Either buy your own equipment or rent it, but you should buy completely new equipment so that you can choose the things you need to suit your weight and body.you can rent almost everything in Imlil if you don't want to carry your own
5.There is a lot of mountains in remote parts of the world, and climbing can be a bit unpopular for local people to maintain their original state or because there are no local facilities to save you. If it comes out of control.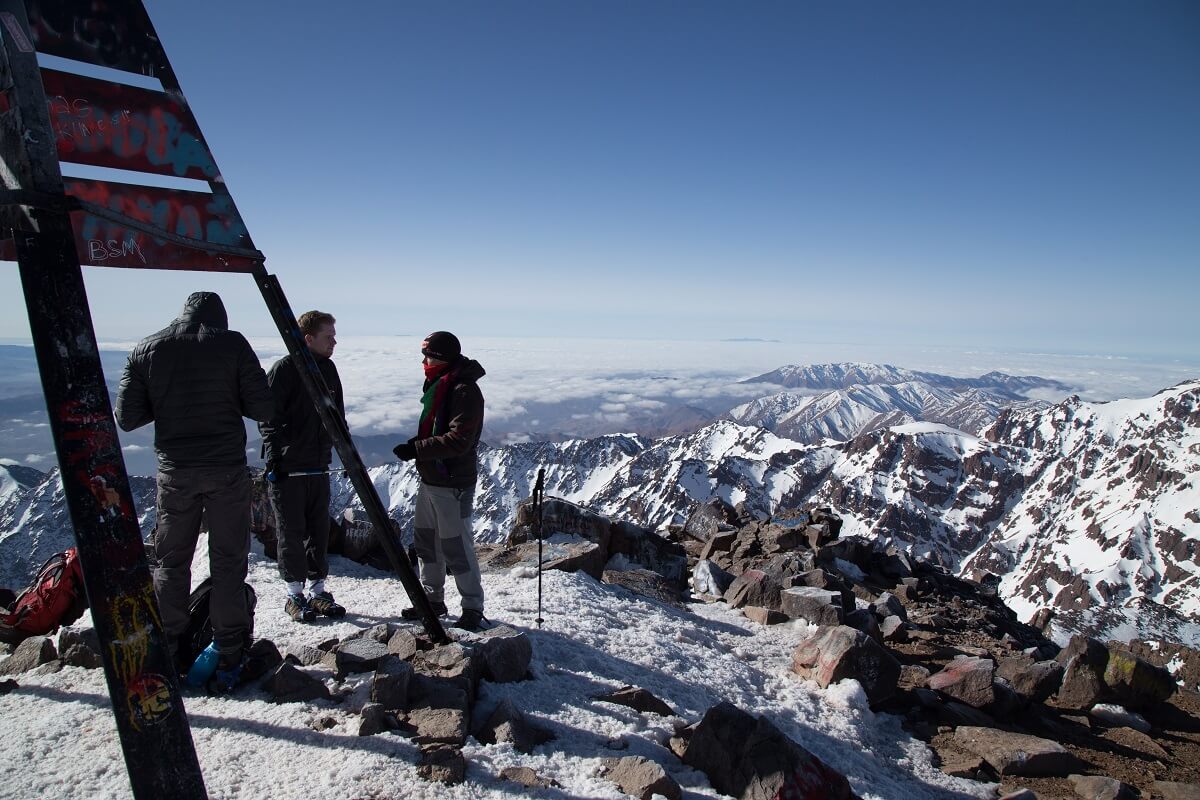 6. In your first experience of climbing a mountain, do not perform the task alone, but try to be with someone who has experience in this area, so take advantage of his guidance on terrain and weather, places where you should take a break, rugged terrain or moving rocks that do not prefer to approach Of them so as not to slip your body.
7. Continue your training and climb simple areas alone such as icebergs or volcanoes. This will help you increase your skill and address new experiences that you lack.
8. Join the mountain climbing club in your area so you can get reliable information about the areas you want to visit, learn about the experiences of your predecessors there, how they were able to finish their mission, what obstacles they faced and how to overcome them.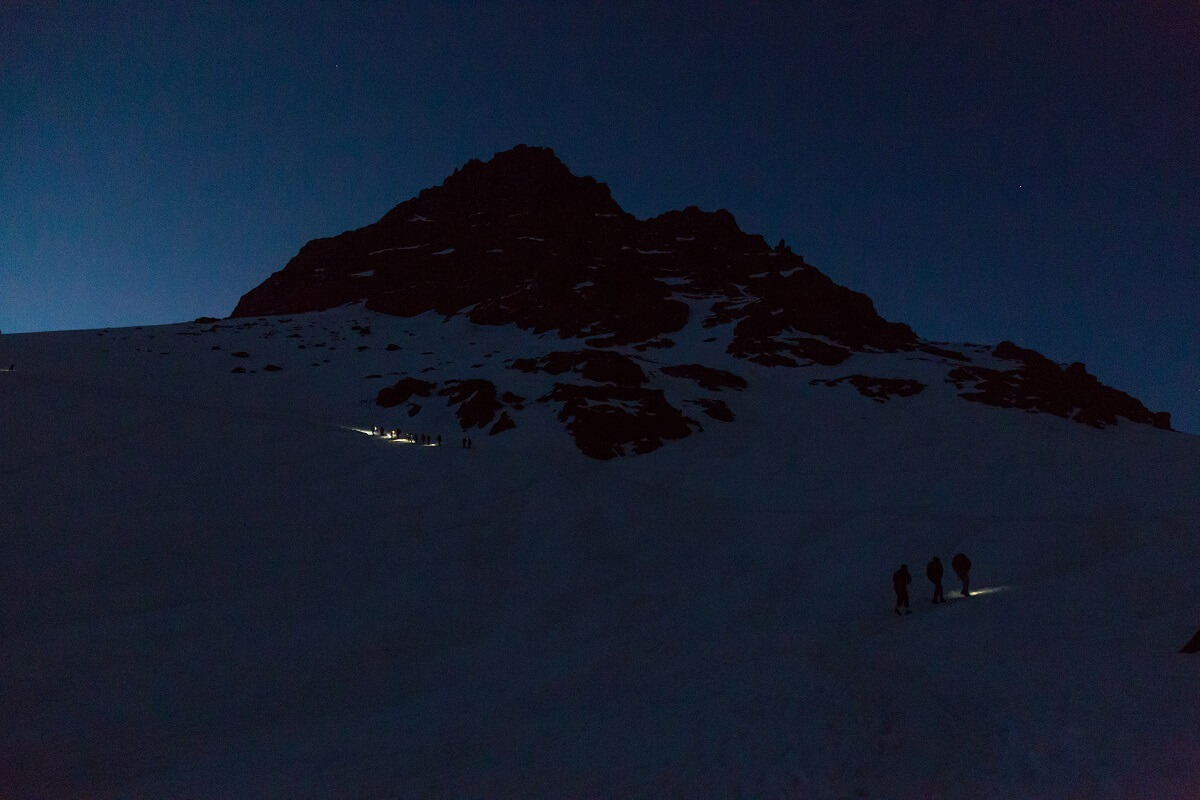 9. Get ready to travel to the nearest area where you have mountains, and start preparing your luggage and equipment because you will stay there for a relatively long period that may last for more than a week and make sure you bring with you everything you need, either equipment or first aid just enough time to try climbing the mountain .
10. The climb from the top of the mountain is not as easy as you imagine, so do not try to land quickly or without paying attention to the route you take, Many of the accidents were caused by the landing rather than the climb, as the vast majority of mountaineers are concentrating their energies on climbing up the mountain.
10 Tips Get You To The Summit Of Mount Toubkal
Tip 1: There are many ways to climb Toubkal – Choose the option that suits you best
Tip 2: A good preparation is half the job. Train for climbing Mount Toubkal!
Tip 3: Be aware of the symptoms of altitude sickness when you climb Mount Toubkal.
Tip 4: Be aware of the best season for climbing Mount Toubkal
Tip 5: Prepare for a hellish night in the Refuge, and blissful nights in the rest of Morocco's accommodations
Tip 6: Don't be a cheapskate: Tip your guide and porters who make climbing Mount Toubkal possible
Tip 7: Your ultimate packing list for climbing Mount Toubkal
Tip 8: Adapt to and respect the local culture around Mount Toubkal
Tip 9: Book your Mount Toubkal ascent with a reliable trekking company
Tip 10: Be lucky with your travel companions before your Mount Toubkal climb. Inshallah.
Use local Company services
If you don't have time for all this training and you still want to climb mount Toubkal we recommend to Use one of the Local travel Companies. ClimbingToubkal is the Best in the domain.
We have been organizing Treks to the Top for more than 10 years.
98 per cent make it to the Summit
For more information please contact Us [email protected]
Whatsapp: 00212662859967